Tuning 101
If you've been playing driving games for a while and are feeling that the car underneath you has potential to go fast, tuning is the way to go. Every car is designed to work for the broader market, but in the virtual world we don't need to worry about markets or road comfort, and it's tuning that lets us make a car our own. Here's how you can make your favourite car that little bit faster.
Tyres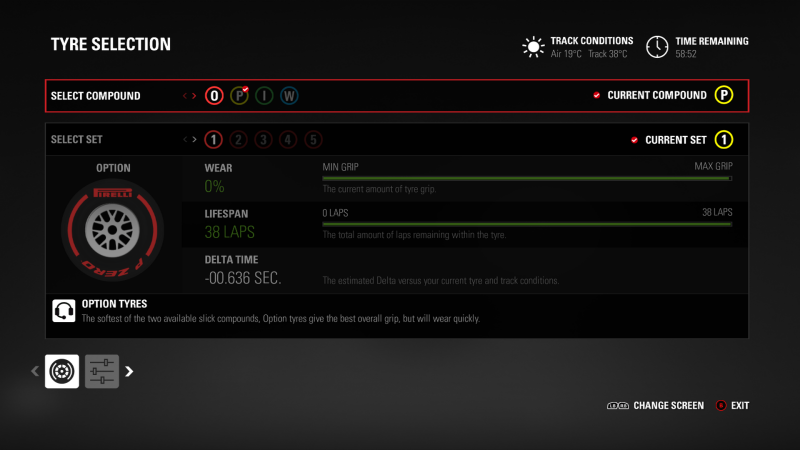 Tyre talk can be incredibly boring but it's arguably the most important factor in driving fast. Tyres are the first contact point between the car and the road, so understanding them will lead to faster lap times and better strategies in motorsport titles.
Formula One titles are a great way of understanding how tyres work. Here, you'll have the choice between option and prime tyres. Option tyres are the fastest and are made of a softer material. While soft tyres are faster, they degrade quickly and can only be used for a handful of laps. Prime tyres are harder and therefore slower. Hard tyres can be used for longer stints, but you'll never break a lap record on them.
It's not just Formula One games that use soft and hard tyres. Both Gran Turismo and Project Cars allow you to use different tyre compounds for the purposes of strategy. If you're entering an endurance race, be sure to swat up on your tyres.
Alignment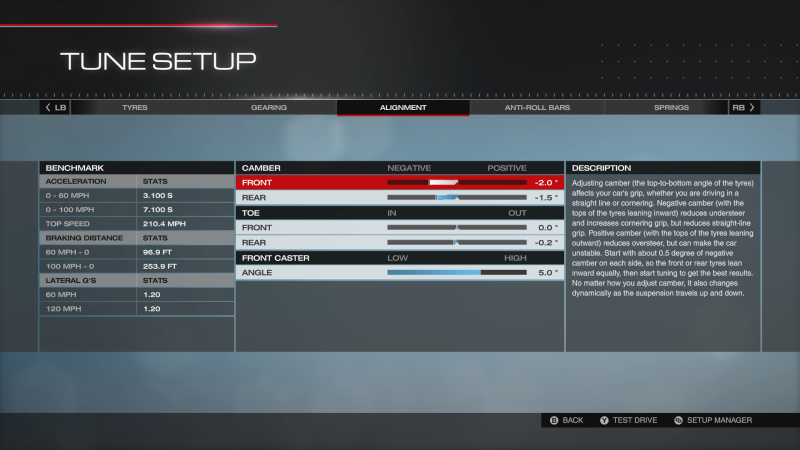 Tyre compounds are vital to maximising lap time, yet it's also important to understand how tyres make contact with the road.
Changing a car's camber is a perfect way of fine-tuning the way it reacts on track. Camber is split into positive and negative. Positive camber is where the top of the tyre is tilting away from the car. This generally delivers poor handling, but does improve tyre wear. You'll often see vintage cars with positively cambered wheels, but many would advise against it on today's cars.
Negative camber angles the top of the tyre inwards, reducing the size of the contact patch. The more camber, the sharper the steering response. Most tuners will put more camber angle on the front wheels than the rears. Be careful, as too much camber can unstable the car and increase tyre wear.
Springs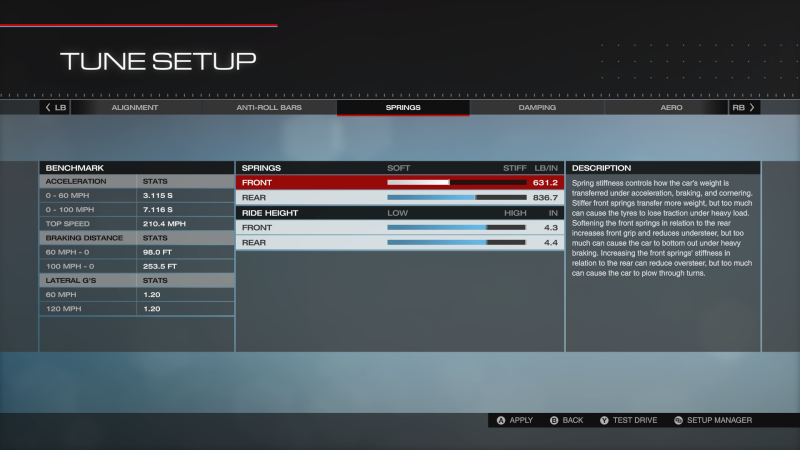 Springs are a difficult area of the car to master. There are many areas of refinement when it comes to a car's suspension, so to keep it simple, we're going to generalise it to soft and hard springs.
Softening the suspension of a car can, to the extreme, make it bouncy and uncontrollable. Too much play in the suspension emphasises the weight of a car and encourages understeer, yet a little softness in the springs can aid turn in, as it uses the cars weight to push down the tyres.
Harder suspension is common on racecars, as they don't need to worry about ride comfort. Firmer suspension increases the reaction of the car, emphasising steering input and improving the car's responsiveness. However, tuning the suspension to be too stiff will easily unbalance the car and make using rumble strips a challenge.
Ride Height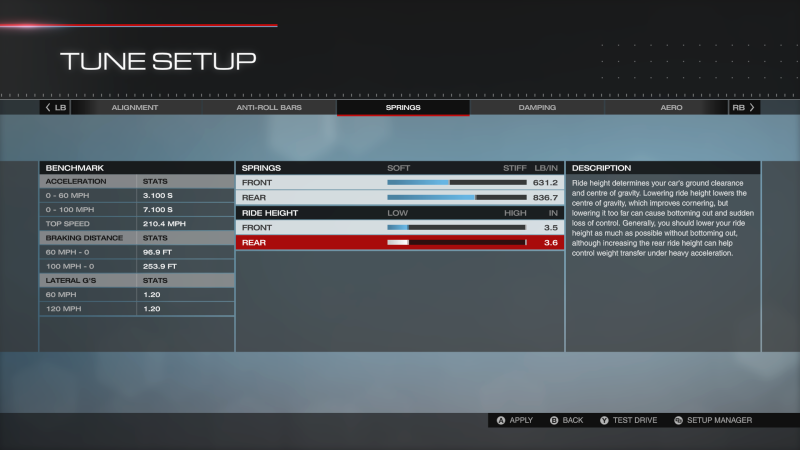 Adjusting the car's ride height can have a significant effect on its performance through high-speed bends. On the circuit, lowering the car's ride height can suck it to the ground and generate high-speed stability, yet it can also be adjusted for rally stages, too. Not only are ride height adjustments simple to make, they can a quick way to take seconds off your lap time.
When racing on a circuit, you'll want to set your ride height just above the lowest possible setting. Minimising the distance between the car's floor and the track lowers its centre of gravity, maintaining balance through high-speed turns, which often unsettle cars. If the ride height is too low, the car will hit the ground causing it to scrub off speed. If it's raining, you'll want raise the car to avoid aquaplaning - where water lifts cars off the ground. Amazingly, most car games simulate aquaplaning.
When participating in a rally event on Gran Turismo or Forza Horizon, you'll need to increase the car's ground clearance to handle to variances in terrain. You won't want the car scraping along the ground when approaching a jump. The challenge with rallying is to keep the car's suspension high enough to clear unpredictable surfaces, yet low enough to maintain stability through slower corners.
Aerodynamics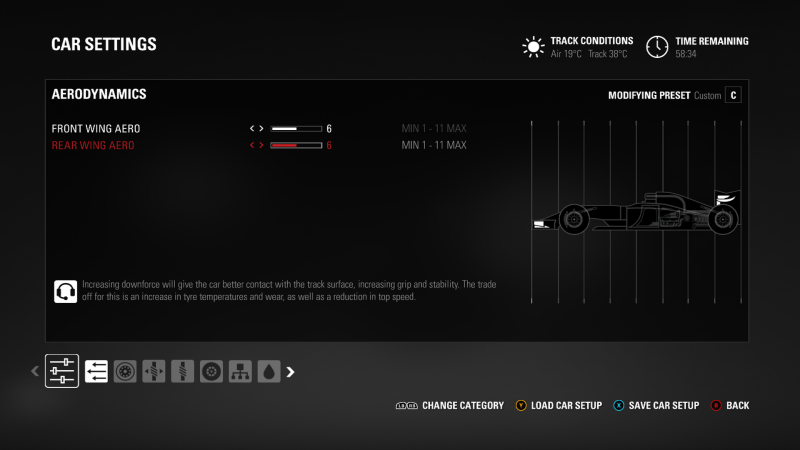 Aerodynamic setups are vital in games like F1 2015 and Project cars, as they can completely alter the characteristics of a racecar. Aerodynamic aids come in the form of wings and diffusers, where their role is to direct airflow around the car to increase performance. It's a never-ending quest of having enough aerodynamic drag for a car to be nimble in the bends, but not too much that straight-line speed is compromised.
The front-wing is the first point of contact the car has with the air. Increasing the front aero improves initial turn-in and high-speed agility. Circuits such as Monaco and Laguna Seca require high downforce setups as they have small straights and twisty turns.
Rear-wings aid rear-end stability through high-speed turns. High downforce improves traction by pushing the rear tyres into the tarmac. However, on high-speed circuits such as Monza or Spa, a low-downforce setup is ideal as it allows air to pass over the car, which improves straight-line speed.
Gearing
Gearing a car can be both blissfully simple and frustratingly challenging at the same time. Most racing titles allow you to adjust the gear ratios of a car, with many giving players the chance to finely tune each gear to be perfect for a certain circuit. We won't go into the tweaking of individual gears, but there are some tricks to gaining big lap time through adjusting the final drive.
The final drive is the overall length of the gearbox. A longer final drive means the car will hold its gear for a longer period of time. Road cars usually have a longer drive to improve fuel saving, but this can ultimately feel a little slow and sluggish. However, if you have a powerful car, such as a Bugatti Veyron or McLaren P1, you can use a longer final drive to reach a higher top speed.
A smaller final drive, known as a close ratio, enables a car to accelerate quickly at the cost of outright speed. Rally cars often use close ratio gears due to the unpredictability of the course. You'll need to be going up and down the gearbox quickly to be fast on Gran Turismo's rally courses.